Dig Deeper is a Norwegian band formed by Einar Kaupang (guitar and vocals), Øystein Braut (guitar), Jørgen Knutsen (bass) and Raymond Tungesvik (drums). A few days ago they have released "In Central European Time", their last record which it's a critic on the actual European immigration policy. One of their most important musical influences range from Neil Young or David Crosby to Pink Floyd. In Madafackismo Underground we have interviewed Einar Kaupang to know the band better.
How were the early days of Dig Deeper?
In the early days we sucked as a band. I was studying archeology and anthropology as an exchange student in Bolivia as a part of my studies at the University in Bergen, Norway. When I returned Jørgen (bass) and I started somewhat of a country band with some friends of ours. We couldn't really play and we spent one year rehearsing at this farm outside Bergen. Many of the songs we made were never recorded but we were heavily inspired by Nick Cave and the bad seeds (No More Shall We Part and Boatman´s Call era) and 16 Horsepower and a lot of other bands with a somewhat dark sound. Meeting Øystein Braut (guitar) and Raymond (drums) things started to pick up after we released one of our first singles «Memphis». That one got a lot of air time on Norwegian radio.
How would you define your sound?
Reviewers seem to have a hard time deciding on whether this is americana or psychedelic rock. We aim to be somewhere in the middle, and we´re not concerned with defining this ourselves. Our sound is not puristic or retro, but a combination of what we listen to I guess. Dig Deeper is the sound of driving your car to a flat four beat and a trippy tune.
Which are your most important music influences? Which bands and artists?
I would say David Crosby and N.Y. with Crazy Horse is the common ground we share between us. After that R.E.M, Richmond Fontaine, Pink Floyd, Dream Syndicate, Pavement. Of newer stuff, Wooden Shjips, Jonathan Wilson, Gospelbeach, War On Drugs, Kurt Vile, The Sadies.
How do you work as a band while composing?
Good question. We do not do it online, that´s for sure. We rehearse together as a band, but Raymond (drums) or Einar (vocals) normally record a melody or an idea of a song and we hook up for 3-4 day sessions (usually in rainy Bergen) and work out the songs. More often than not they turn out to be far away from the original ideas. After 5-6 of these sessions we had enough material to go into studio and start recording. This time the result was an EP and an album. After the process of recording live we don´t really rehearse that much besides freshening up on some old tunes before shows.
In your album called "In Central European Time" you tell the story of life as a refugee. Can you tell us more about this record?
«In CET» is an album following a fictional character drifting paperlessly through Europe in search of something better. A brown wind is blowing across Europe where egocentrism, protectionism, narrow mindedness rule. The album is a comment on how many European countries (Norway included) have failed to separate political perspectives and arguments from humanitarian.
In your previous records you had often used your music to criticise your country's right-wing government. ¿What do you think about the current political moment?
The «Stars Tonight» EP we released this Spring was a direct protest against the inhumane new laws on immigration our government clubbed through. The government has been working hard to minimise the amount of refugees getting into Norway through disgusting campaigns while in my opinion we should be concerned with how we should play our role as a country of many resources and that seek to take our part of the common human responsibility in the current refugee and migrant situation we see.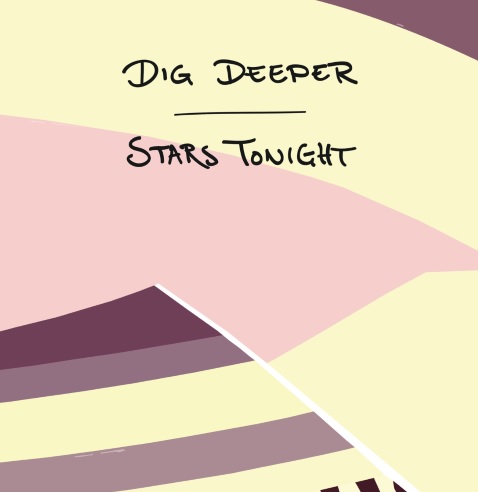 The current political situation in Norway is for now that a political system of many parties. It´s not a two party system as in many other countries. The reality of this is that no party is able to get a majority and co-operation on both sides is needed. In 2013 this resulted in the most right wing party (Progress Party) joined forces with the the traditional right wing party and this was enough for governing. The same parties have now been re-elected. This is the short version but you get my drift. The left side is struggling to find common ground politically and in their campaigns at the same time to many support a minimum of immigration, short term tax-reliefs and the things that seem to attract voters when the future of the economy in Norway and Europe seem uncertain.
Do you think it is harder to be on the radar of the big labels if you're not from the UK or US?
That is something I have not thought about. We are from Norway, in Dig Deeper we´re used to the DIY-way of things. As long as we are able to enjoy every step on our way we consider ourselves lucky.
What do you think about the music scene in Norway at the moment? Could you recommend us some cool bands to check out?
The music scene is in my opinion tighter and more connected between the different expressions now than it used to be. This is a good thing, I think. It has also become a lot more professionalised when it comes to arts/music administration. It´s a small country and people mostly know each other. I (Einar) will answer for myself but cool bands from the top of my mind are: The Megaphonic Thrift, check out Misty Coast too, The Mormones, Empty Bottles Broken Hearts, The Switch, Electric Eye, Motorpsycho, Kitchie Kitchie Ki Me O and Death By Unga Bunga. Check out these bands, well worth a listen.
TEST Madafackismo
A celebrity which you would like to have a few drinks/hang out
Elton John
A Sci-fi character that you admire
Benjen Stark
Last record that you´ve listened
Soft Ride – Burgundy
Best show of your life
Stevie Wonder at Roskilde Festival (2014?)
A funny story (anecdote) that you can tell us
I´ll tell you one thing, Joshua King needs to find himself another PL club. What a player!
Thank you guy
Text: Brais Iglesias Castro
Photo: Julie Marie Naglestad